Praying Through to God eLeaflet
God has not made it difficult for us to reach out to Him.
He promises if we draw near to Him--
if we call out to Him and respond to Him--
that He is there in an instant!
God LONGS to hear us pray--and His ears listen.

God wants us to come to Him about our deepest need--
that we know Him personally, and are sure
that He will bring us safely to heaven when we die.

People are open to pray.
This Scripture-based prayer leads a person to place his trust
in Jesus as his personal Savior.

This Leaflet answers the question,
Can I know God? and How to know God in a personal way.

Share this leaflet with a friend over coffee.
Give these leaflets to those you meet on the plane, bus or
on hospital visits.

After you download it, print as many copies as you like for
your own use,
or if you are a church, within your local church.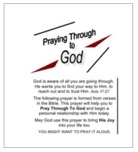 Description
Folded Dimensions,
3 1/2" x 4 1/4"
This shorter version of the prayer, Praying Through to God, is in leaflet form in double-sided printing.

Attractively designed, it is ready to print on your printer or at your local print shop.
See Sample Pages
GO TO DOWNLOAD PAGE Praying Through to God eLeaflet

Tell your friends about it
so they can download it too.