Place Scripture Prayers




in the Church Bulletin No. 1



An Exciting Development
One Sunday morning my pastor-husband, Doug, announced to the congregation he wanted to preach through the entire New Testament that year. He pointed out that if we read five chapters a week, we could finish reading it in one year. He explained that each week he would choose a passage from one of those five chapters and preach from it on Sunday. Excitement mounted.
At home I expressed to Doug, "I would like to put those five chapters into prayers. Could I hand out a portion of them each Sunday?" He thought the idea timely and allocated space on the back of the bulletin.
The Following is a Sampling of What Happened

We found people were praying the prayers
before the church service began,
and taking the bulletin home and
praying the Scripture-based prayers during the week.

On the week I began to place Scripture-based prayers on the back of the church bulletin, I received a difficult letter from someone who had been hard on me for decades. The Scripture-based prayer comforted me and gave me strength. The prayer read,

"Anoint me to work for peace. Strengthen me when I am persecuted and lied about because I am Yours. Help me to be glad about it! Because Your Kingdom belongs to me, and a great reward awaits me in heaven."

The Scripture-based prayers ministered to me, and gave me insight.

At the end of one church service, one man said to me,

"The prayer on the back of the church bulletin was all about me." Part of the prayer that week read,

"Heavenly Father, thank You for finding me--even though I wasn't looking for You. Thank You for revealing Your truth to me so that I can know You--even though I wasn't asking. Thank you that all day long You stretched out Your hands to me--even when I was disobedient and I opposed You. Father, thank You for showing Your great love and mercy to me."

The Lord ministered His grace to this man through that prayer.
One week, the following prayer went into the church bulletin,
"Heavenly Father, fill me with Your grace so I won't take another believer to court. Work in my heart to be open to the wisdom that other believers can give to me....Remind me that to sue another believer means that I have failed, and have not allowed Your grace to touch my heart. Give me grace to be wronged, and to forgive, rather than rob another believer of the love I need to show to him/her."

When I included that prayer I thought, "This probably won't apply to anyone in our church." Yet a man shared with us, that just that week, as he mulled over a difficult situation, he had decided, "I can't take her to court. It would not bring honor to God."

He looked to the Lord to give him strength.
At the end of the year, one lady commented,
"I've saved all the bulletins so I can pray the prayers again and again."


Reading through the entire New Testament as a congregation,
My pastor-husband preached from a portion of those five chapters each week,
Praying the Scripture-based prayers in the bulletin before the church service began, and
Taking the bulletin home, and praying the prayers again during the week.
It is an excellent way to read, meditate on, and
pray God's Word into our lives
We placed these pages in the Church Bulletin for 52 weeks.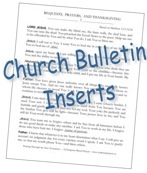 The Scripture-based prayers are in PDF format, ready to download and embed into your church bulletin or to manually insert.

Back to Pastor's Corner


Scripture Prayers Church Bulletin Inserts
Description Page
Go to DOWNLOAD PAGE


Tell your friends about it
so they can download it too.